Sphinx drupiferarum
890123.00 —
7812 —
Sphinx drupiferarum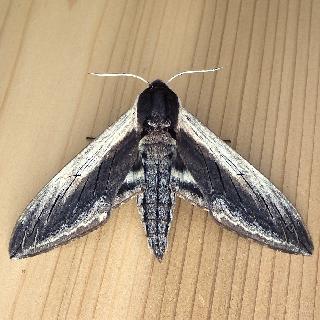 Images copyright: Carl Barrentine (WA)
---
Larval Host(s)
Presumed main host
on Block Island:
Known hosts:
---
Remarks
This species has not been found in the present survey, nor was it recorded in Mark Mello's surveys (1996–1999), and it may no longer occur on Block Island.
---
References
Species Page at Moth Photographers Group
Barcode of Life (BOLD) - Caution: Some specimens shown may not be sequenced. DNA barcode provides evidence of relatedness not proof of identification.
Covell Field Guide p.36; Pl. 4(11, male).
Hall et al., 2021. The Moths of North Carolina - website (identification, habitats and life history)
Hodges, R. W., 1971. Moths of America North of Mexico, Fascicle 21:p. 69; pl. 5.11. order or free PDF
Species Page at Bill Oehlke's moth website - Sphinx drupiferarum
Species Page at BugGuide
Species Page at E. H. Strickland Museum
Species Page at Pacific Northwest Moths
Tuttle, J. P., 2007. Hawk Moths of North America: p. 89; pl. 7.10.
Wagner, D. L., (2005). Caterpillars of Eastern North America, pp. 256, 260.
---