Atroposia oenotherana
620213.00 —
3848 —
Atroposia oenotherana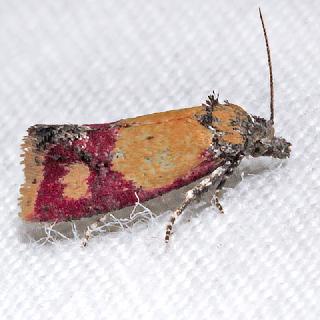 ---
Larval Host(s)
Presumed main host
on Block Island:
Known hosts:
---
References
Species Page at Moth Photographers Group
Barcode of Life (BOLD) - Caution: Some specimens shown may not be sequenced. DNA barcode provides evidence of relatedness not proof of identification.
Brown, J.W., 2019. New genera, new species, and new combinations in new world Cochylina (Lepidoptera: Tortricidae: Tortricinae). Zootaxa, 4671(2): 195-222.
Metzler, E.H. & J.W. Brown, 2014. An updated check list of the Cochylina (Tortricidae, Tortricinae, Euliini) of North America north of Mexico including Greenland, with comments on classification and identification. Journal of the Lepidopterists' Society, 68(4): 274-282.
Pogue, M.G., 1986. A generic revision of the Cochylidae (Lepidoptera) of North America. Ph.D. dissertation, University of Minnesota, Minneapolis, Minnesota, 1-280.
Species Page at BugGuide
---