Eucosma annetteana
620759.00 —
2919 —
Eucosma annetteana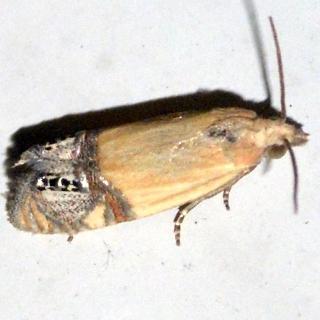 ---
Larval Host(s)
Presumed main host
on Block Island:
Known hosts:
life history unknown
life history unknown
---
Remarks
Mimic
of jumping spiders (Salticidae).
---
References
Species Page at Moth Photographers Group
Barcode of Life (BOLD) - Caution: Some specimens shown may not be sequenced. DNA barcode provides evidence of relatedness not proof of identification.
Gilligan, T.M. & D.J. Wright, 2013. Revised world catalogue of Eucopina, Eucosma, Pelochrista, and Phaneta (Lepidoptera: Tortricidae: Eucosmini). Zootaxa, 3746(2): 301-337.
Gilligan, Wright & Gibson, 2008. Olethreutine Moths of the Midwestern United States: p. 93.109. (out of print)
McDunnough, J.H., 1958. American Museum Novitates, 1917: 1-11.
Species Page at BugGuide
Wright D.J. & T.M. Gilligan, 2015. Eucosma Hübner of the contiguous United States and Canada (Lepidoptera: Tortricidae: Eucosmini). The Moths of America north of Mexico, Fascicle 9.4: 1-256, order.
Wright, D.J. & R.L. Brown, 2014. Review of the Eucosma refusana (Walker) species group (Tortricidae), with descriptions of two new species and discussion of biogeographic influences on species distribution. Journal of the Lepidopterists' Society, 68(2): 85-100.
---