Spilonota ocellana
620735.00 —
2906 —
Spilonota ocellana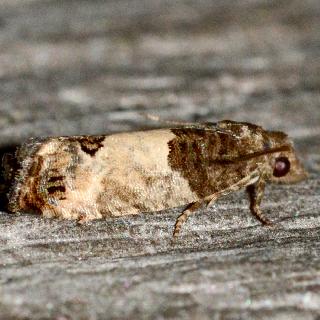 ---
Larval Host(s)
Presumed main host
on Block Island:
Known hosts:
unclear/unknown
Polyphagous
---
References
Species Page at Moth Photographers Group
Barcode of Life (BOLD) - Caution: Some specimens shown may not be sequenced. DNA barcode provides evidence of relatedness not proof of identification.
Barcode of Life (BOLD) - BIN: AAA6641 (possible cryptic species)
Barcode of Life (BOLD) - BIN: ABZ4399
Gilligan, T. M. & M. E. Epstein, 2014. Tortricids of Agricultural Importance to the United States (TortAI). Identification Technology Program (ITP), USDA/APHIS/PPQ/CPHST, Fort Collins, CO, species page at idtools.org.
Gilligan, T.M., J.W. Brown, J, Baixeras, 2020. Immigrant Tortricidae: Holarctic versus Introduced Species in North America. Insects, 11(9), 594: 1-59.
Gilligan, Wright & Gibson, 2008. Olethreutine Moths of the Midwestern United States: p. 90.104. (out of print)
Powell, J. A. & P. A. Opler, 2009. Moths of Western North America, Pl. 14.40m; p. 132. Book Review and ordering
Species Page at BugGuide
---