Paralobesia viteana
620494.00 —
2712 —
Paralobesia viteana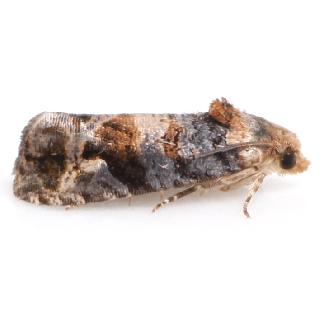 ---
Larval Host(s)
Presumed main host
on Block Island:
Known hosts:
---
References
Species Page at Moth Photographers Group
Barcode of Life (BOLD) - Caution: Some specimens shown may not be sequenced. DNA barcode provides evidence of relatedness not proof of identification.
Barcode of Life (BOLD) - BIN: AAB3143
Gilligan, T. M. & M. E. Epstein, 2014. Tortricids of Agricultural Importance to the United States (TortAI). Identification Technology Program (ITP), USDA/APHIS/PPQ/CPHST, Fort Collins, CO, species page at idtools.org.
Gilligan, Wright & Gibson, 2008. Olethreutine Moths of the Midwestern United States: p. 47.15. (out of print)
Royals, H.R., J-F. Landry, T. M. Gilligan, 2019. Paralobesia (Lepidoptera: Tortricidae), a systematic revision. Memoirs of the Lepidopterists' Society , (6): 1-149.
Species Page at BugGuide
---