Bactra furfurana
620477.00 —
2706 —
Bactra furfurana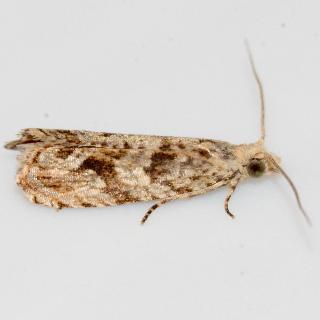 ---
Larval Host(s)
Presumed main host
on Block Island:
Known hosts:
Juncus (?)
Juncaceae, Cyperaceae
---
References
Species Page at Moth Photographers Group
Barcode of Life (BOLD) - Caution: Some specimens shown may not be sequenced. DNA barcode provides evidence of relatedness not proof of identification.
Diakonoff, 1964. Further records and descriptions of the species of Bactra Stephens ( Lepidoptera, Tortricidae). Zoologische Verhandelingen, 70(1): 20.
Gilligan, Wright & Gibson, 2008. Olethreutine Moths of the Midwestern United States: p. 38.1. (out of print)
Haworth, A.H., 1803-1828. Lepidoptera Britannica, 1-4: 466.
Heinrich, C., 1926. Revision of the North American moths of the subfamilies Laspeyresiinae and Olethreutinae. Bulletin of the United States National Museum, 132: 83; figs. 45, 170, 343.
Powell, J. A. & P. A. Opler, 2009. Moths of Western North America, Pl. 14.19m; p. 130. Book Review and ordering
Powell, J.A., 1997. Three Additional Bactra In California, One Native But Overlooked, One Probably Introduced, One New Species (Tortricidae). Journal of the Lepidopterists' Society, 51(2): 128-134.
Species Page at BugGuide
Species Page at E. H. Strickland Museum
---